Fluoro specialties
Hydrofluoroether can be widely used in the Eco-Electronic industry.

Fluoro specialties form an invisible barrier around fibers enabling to repel water, oil & stains.

Perfluoroethers as fingerprint resistant membrane are widely used in touch panel glass surface protection.
About
China Fluoro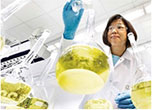 China Fluoro Technology Co.,Ltd.
Vision : To be an outstanding manufacture & supplier in the global fluorine fine chemical industry. China Fluoro is a professional fluoro specialties company.
Learn More >>
News
2017-04-27

Technical seminar

2018-04-23

Magical Life Science - Through the Eye of Children